Required Document for proceeding recruitment
Leading Manpower Recruitment Services is here to give you the unwavering assistance that you needs and possesses a vast database of qualified candidates and ensures the availability of suitable applicants for any given industry and specialty.
Leading Manpower Recruitment Services begins prospecting candidates soon after receiving a job order from the Clients. First and foremost, we check to our computerized database to ensure that no stone is left unturned in our search for the best candidates. Secondly, we place an advertisement in leading newspapers, job fairs in various cities and provinces here in country.
Our senior staffs and technical interviewers are tasked with the responsibility of pre-screening candidates to come up with a shortlist of the most qualified applicants who will then be endorsed to the Clients for interview and approval.
At this stage, the Clients shall be requested to send their representative to employee's Location to conduct the final interview and trade test. We can also send the CVs of the most qualified candidates direct to the Clients if the first option is not feasible. What sets L.M.P apart from other employment agencies is that we conduct our own set of rigorous trade tests over and above to give our Clients a first-rate selection of the best candidates for their job requirements.
The selected workers are required to submit the following documents Applicants bound for principles
1. Passport                    2. Medical Certificate              3. Degree/Certificate
Before deployment, all contract workers shall be required to attend the official Pre-Departure Orientation Seminar facilitated by our organization. Our senior staff will also conduct other seminars to give workers an overview of the jobs they will undertake
Process After Documentation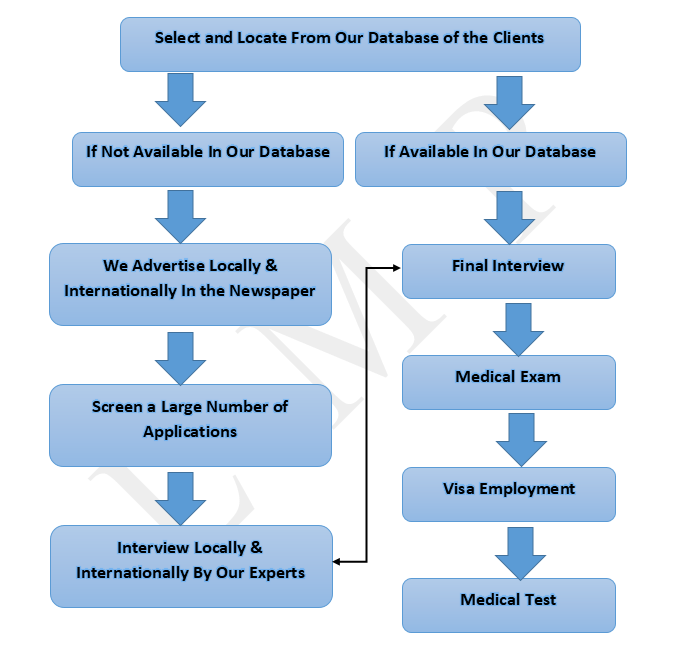 A shortlist of candidates within two weeks (depending on the volume of the requirements) Interviewed and per-qualified
Shortlisted Candidates meet a minimum of 7 point out of 10 point as follows Leading Manpower Recruitment Services CV form.
The shortlisted candidates will be available for a face to face or webcam/phone interviews. Once selected, the candidates will be available for a maximum period of 30-60 days.
The candidates will complete the medical examinations, police clearances, passport application/renewal (if any) within a maximum period of two weeks.
The shortlisted candidates will fly for company place maximum within 2 weeks after getting their entry permit.